BOLT BY ZEUS JUICE
Zeus Juice are proud to have developed a new shorfill range, BOLT: an artistic alternative to traditional smoking that is vibrant, fun and full of flavour.
Retailing at £2.99 for a 10ml, £8.99 for a 50ml and £14.99 for a 100ml, BOLT combines premium ingredients and dynamic flavour combinations with an artistic influence. Featuring 10 e-liquid flavours, the BOLT collection harnesses the tastes of much-loved drinks and desserts such as Strawberry Shortcake, Bubbly Blackcurrant and Cherry Cola.
The range is designed specifically for customers that are looking for:
What makes BOLT different?
Zeus Juice is well known for its signature bold, dark and mythological-inspired flavours and BOLT's selection of flavours marks a new direction for the brand, diversifying the product offering while keeping on top of market trends and consumer demand. BOLTS's tried and tested flavours such as Fruity Punch and Vanilla Custard appeal to a much broader audience that may be hesitant to try more intricate e-liquids, such as Zeus Juice's bestselling Black Reloaded.
How is this range different to the BOLT we all saw in 2018?
The 2018 BOLT brand was originally built around a bubble gum theme, and the whacky flavours garnered a reputation as the vaping industry's marmite range. This time around, BOLT offers a broad variety of flavours that really hit the spot that aren't based on a passing fad or a crazy idea born in the lab. BOLT is firmly inspired by the creative arts and culture and embraces the vibrant, fresh flavours we all know and love.
When flavour strikes?
It has to be BOLT.
We are excited to launch BOLT as a mid-range following the success of our value range Proper Vape. All products are shipping immediately and we hope you enjoy the striking flavour profiles.
Banana
custard
10ml Freebase
50ml Shortfill
100ml Shortfill
Our Banana Custard e-liquid is a silky smooth blend of bananas topped with lashings of warm vanilla custard. An ever-popular combination, this classic creamy fruit flavour will magically melt in the mouth of any dessert lover.
Bubbly
Blackcurrant
10ml Freebase
50ml Shortfill
100ml Shortfill
With deep berry goodness and a zesty citrus bite, Bubbly Blackcurrant e-liquid is a delicately balanced concoction. Rich blackcurrants blend with orange zest topped with a surprising exhale of fizzy lemons that is both sweet and sharp.
Cherry
Cola
10ml Freebase
50ml Shortfill
100ml Shortfill
A classic combination, our Cherry Cola e-liquid sparkles with sublime sweetness. Rich, dark cherries pop against fizzy cola delivering a satisfying aftertaste that will really quench your thirst.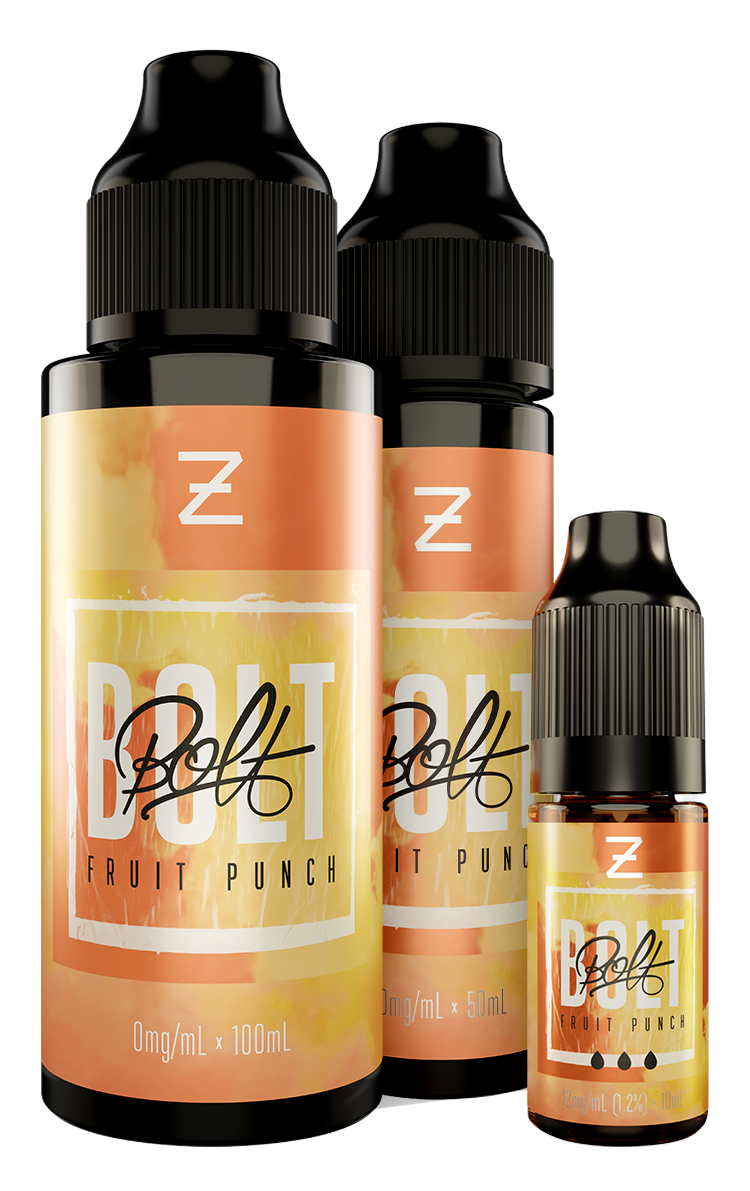 Fruit
Punch
10ml Freebase
50ml Shortfill
100ml Shortfill
Our perfectly blended Fruit Punch e-liquid bursts with fruity goodness. Vibrant, quenching and sweet, this colourful combination leaves a seriously fresh and juicy aftertaste that really packs a punch.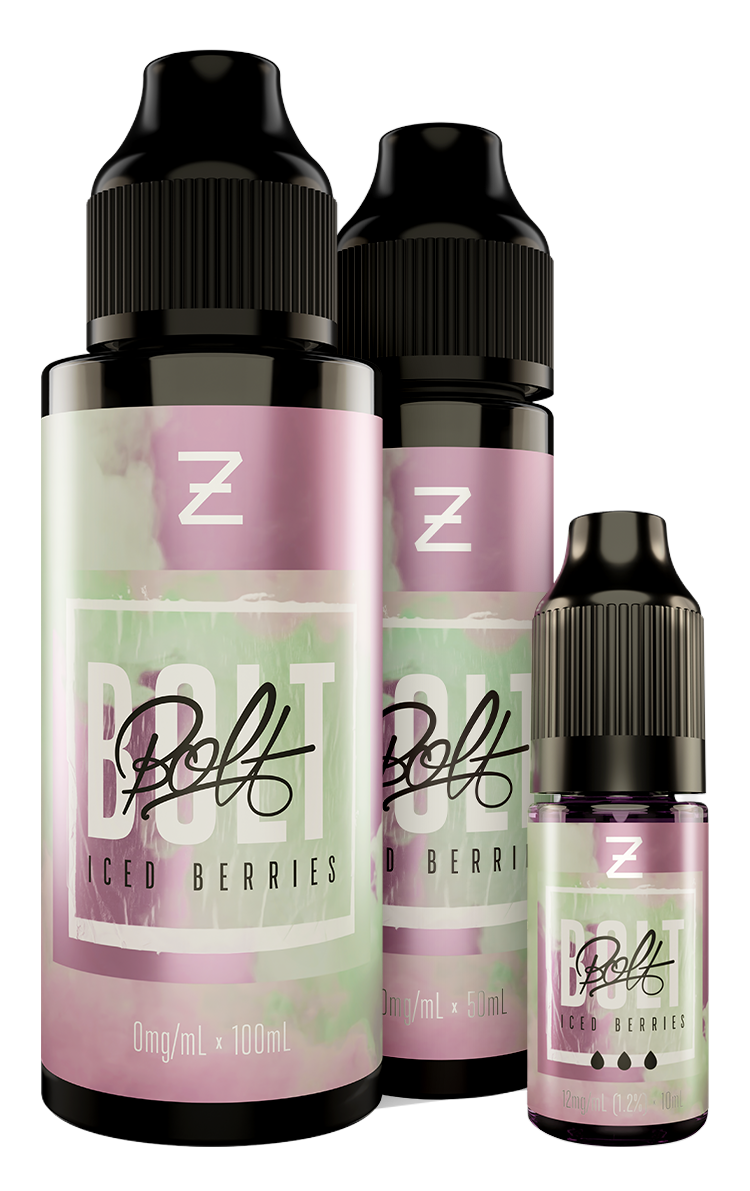 Iced
Berries
10ml Freebase
50ml Shortfill
100ml Shortfill
Our sweet Berries Ice e-liquid is our most fruitiest of flavours. A deliciously crafted berry blend is paired with sensational chilled menthol adding the final finesse to an enticing all-day cooling vape.
Lime
Slush
10ml Freebase
50ml Shortfill
100ml Shortfill
Our Lime Slush e-liquid offers a refreshing flavour with a frozen fruity kick. Hydrating sour limes and super-cold crushed ice blend into a tart and tasty treat that really hits the spot.
Mango Lychee
Menthol
10ml Freebase
50ml Shortfill
100ml Shortfill
Let our Mango Lychee Menthol e-liquid whisk you away to a tropical paradise. Bringing an exotic fusion of ripe mango and aromatic lychee, this tantalising taste of the tropics is crowned with a chilling menthol kick on the exhale.
Strawberry
Shortcake
10ml Freebase
50ml Shortfill
100ml Shortfill
Our evocative Strawberry Shortcake flavour is reminiscent of summer days. Light, sweet and creamy, it captures the perfect combination of freshly baked cake topped with juicy ripe strawberries and dollops of delicious cream.
Vanilla
Custard
10ml Freebase
50ml Shortfill
100ml Shortfill
An appetizing sweet treat, our Vanilla Custard e-liquid proves its perfect partnership. Thick, velvety custard laced with subtle traces of soft and fragrant vanilla is a match made in heaven for any sweet-toothed vaper.
White Chocolate
Mocha
10ml Freebase
50ml Shortfill
100ml Shortfill
Start your day the right way with our White Chocolate Mocha e-liquid. High quality coffee beans infused with a sprinkle of sweet white chocolate delivers a rich, warm and flavourful experience that will gratify any coffee aficionado.