ZEUS JUICE TOBACCO
Tobacco has changed…
Zeus Juice are proud to have developed a new 10ml range, Tobacco Blends: a Revolutionary Alternative for Cigarette Smokers.
Retailing at £3.99 for a 10ml in salts or freebase, the range combines premium ingredients and innovative development that harnesses the flavour of well-known smokes. Zeus Tobacco provides a parallel taste to traditional tobacco in seven e-liquid flavours including B&H (Bia & Hades), Menthol and Authentic Cuban Cigars (The Cubano).
The range is designed specifically for customers that are looking for:
What is the inspiration behind the branding?
Our award-winning graphics team have cleverly combined classic tobacco imagery with the inimitable and contemporary Zeus style. The branding tells the story of the evolving habits of tobacco and the comparable but healthier alternative to smoking that Zeus offers.
Why is the price different to the other Zeus Juice 10mls?
Zeus Tobacco offers familiar flavours inspired by traditional cigarettes, whereas Zeus Juice boasts innovative, intricate and ingenious flavour combinations. As with all of the ranges, Zeus Tobacco is made properly in our Birmingham headquarters with every batch tested in the laboratory against a database of over 40,000 compounds.
Why is the range only available in 10mls?
With the modern smoker in mind, 10mls are far more convenient. The nicotine is premixed and unlike 100mls, the 10ml bottles can be carried out and about just as easily as a pack of cigarettes (if not easier!).
Tobacco has changed. Try the original all day vape today.
"Tobacco has changed"
Following the hugely successful launch of value range Proper Vape last December and BOLT in April, Zeus Tobacco is the newest addition to the Zeus family. All products are shipping immediately and we hope you enjoy the striking flavour profiles.
№1
AMERICAN RED
10ml Freebase
-
A fine blend of rich American tobacco bold & full bodied.
№2
THE CUBANO
10ml Freebase
10ml Nicotine Salts
The Cubano brings the full depth & taste of an authentic cuban cigar.
№3
BIA & HADES
10ml Freebase
10ml Nicotine Salts
Original gold & silver tobacco flavour, intense yet smooth.
№4
VANILLA
10ml Freebase
-
Aromatic vanilla compliment to a fine tobacco sensation.
№5
SMOOTH
10ml Freebase
-
Smooth & easy going a lighter tobacco blend.
№6
MENTHOL
10ml Freebase
10ml Nicotine Salts
A smooth tobacco base with a fresh menthol breeze.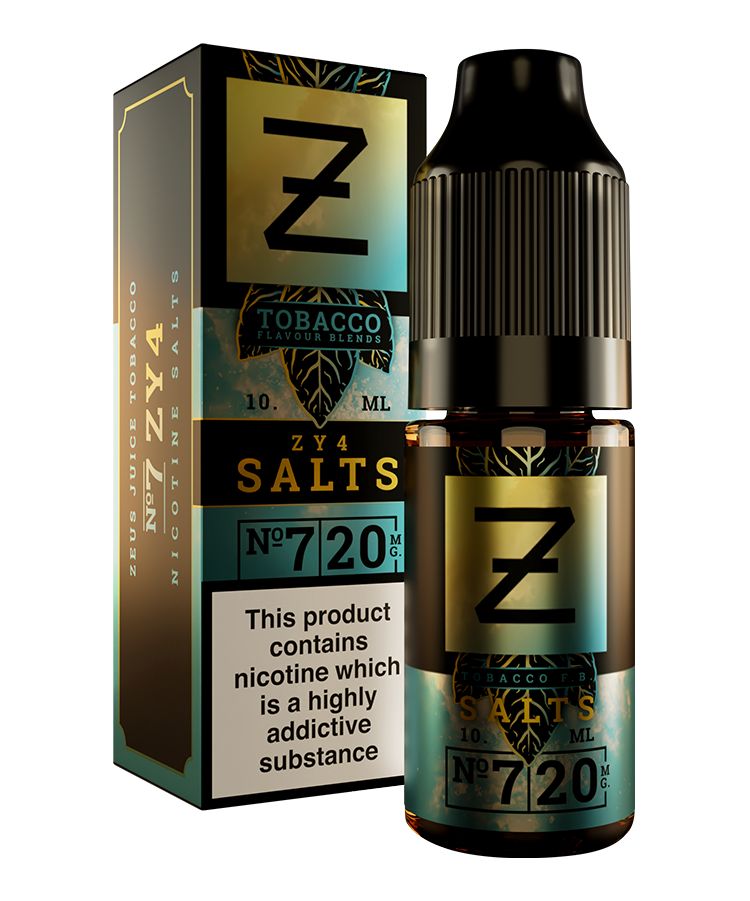 №7
ZY4
-
10ml Nicotine Salts
Super rich caramel & vanilla notes with a tobacco finish.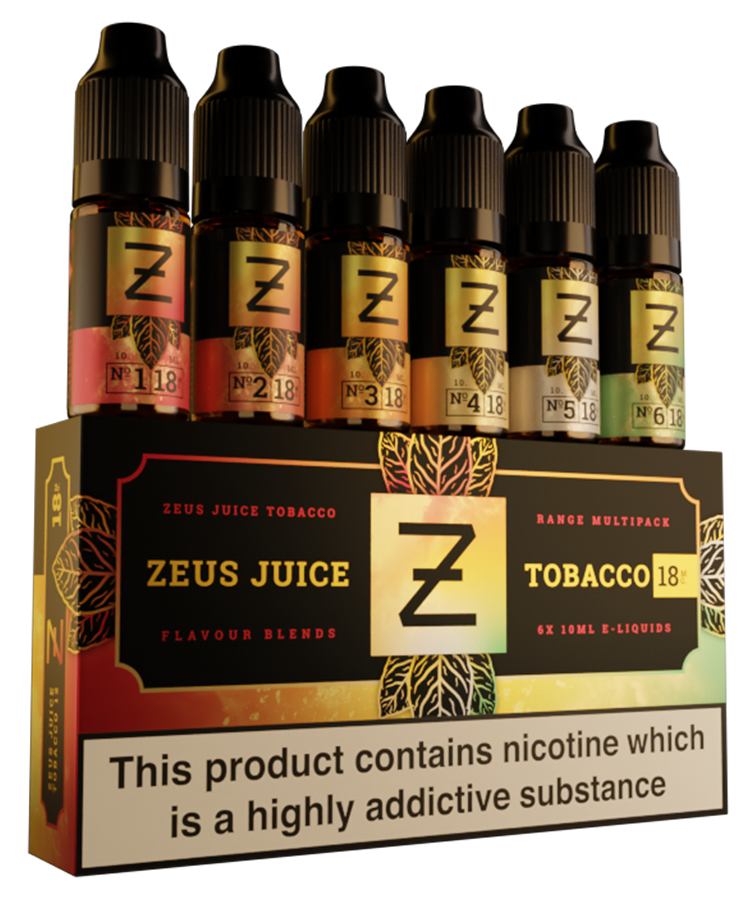 №1 - №6
RANGE MULTIPACK
10ml Freebase
-
Try the full collection of flavours
*Excludes ZY4