WHY SUBSCRIBE?
Subscribing is the effortless way to get your Zeus Juice regularly without having to remember to order! On demand, premium, batch tested and full of flavour products direct to your door with FREE delivery.
We all know the frustration of finding there's less than a drag left in your bottle, so subscribe and sit back – there is another one on the way. Whether you need a refill weekly, fortnightly, monthly or it depends on your mood, we make it work for you. What's more, you can keep your FOMO at bay as with our subscription service that allows you to change your selected products at any time meaning you can switch and discover good new stuff whenever you want. Whatever your frequency, flavour or nicotine, Zeus will deliver.
BIG SAVINGS
As well as saving you time and effort, our subscription service offers you an exclusive saving with a 10% discount on EVERY subscription order. You could save £104 in 12 months if you order a 100ml bottle of Zeus Juice weekly!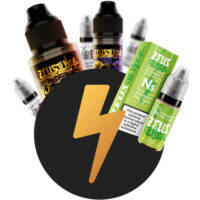 ANY FLAVOUR, ANY STRENGTH
Whether it's our best-selling Black Reloaded that's your go to or earthy ZY4 that keeps you going, no problem. Subscribe and receive any flavour, any nicotine, any time.
FREE DELIVERY
Receive free delivery direct to your door all year round – no catches, no hidden fees, no worries.
BIG SAVINGS
Save all year round with your exclusive 10% discount. Use our subscription service and you'll save a small fortune!
Quick FAQ
We know that everyone is different when it comes to vaping, which is why we've made it super easy to amend your plan anytime with just a few clicks in your account.
Have more questions? Check out our extensive Subscription FAQ page here.