2022 Just got a whole lot better…
2022 has been a big year for Zeus Juice, from opening three new stores in Scotland to expanding internationally and growing our in-house team, we have also been working behind the scenes on offering you a bigger and better brand experience.  To continue to inspire and support our customers to make the switch from smoking to vaping, on October 1st we will be expanding our standout flavours so that, for the first time in Zeus Juice history, all flavours will be available in all product variants including our salts and 10ml products #hugenews.
A new re-launch means a new DEAL!
To celebrate the relaunch we're offering a limited-time mix and match offer where you can choose any four for £10 or 15 for £30, helping you to find your new favourite flavour by exploring and trying fresh innovative blends at a lower cost.
Why try our 10ml E-liquid and salts?
Retailing at £4.49 a bottle, our 10mls are the perfect choice for those looking for a cheaper alternative to smoking cigarettes but also a brilliant way for individuals to gradually reduce their Nicotine strength.
ANY FLAVOUR, ANY STRENGTH
Whether it's the nation's favourite Black Reloaded or our sweet sensation Midas that is your go-to, we have the perfect flavour for you. Any flavour, any time.
BIG SAVINGS
Bigger bottles, smaller price tags. On average, a disposable which retails at £5.99 each will last 1-2 days maximum, but our 10ml bottle will last an average 5-7 days – meaning you'll be buying less often and at a lower price.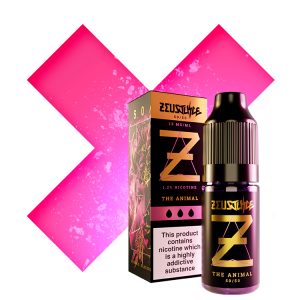 STOP WITH ZEUS
Our 10mls offer you the choice of various mg options, meaning our customers can customise their nicotine strength and gradually reduce it to as low as 3mg..
Why did we rebrand?
Premium flavour, premium branding!
Whether it's fiery and intense, a burst of citrus or a delicately sweet sensation, Zeus Juice guarantees flavourful and smooth hits every time. Zeus Juice are proud to have developed such premium e-liquids with outstanding flavours and have been working hard to relaunch our stand-out product branding to reflect the quality, innovation and creativity of our inimitable blends.
Zeus Juice is well known for its mythological creatures and complex graphics and the rebrand will see our signature style boldly adorn all of our product variants to deliver an instantly recognisable Zeus experience influenced by the legends and stories of Greek mythology.
What MG options are available in the flavour expansion?
Whether you choose to vape freebase or salts, we have plenty of suitable choices to help you on your vaping journey. We offer our range of salts in 5mg, 10mg and 20mg whereas our range of 10ml freebase e-liquids are available in 3mg, 6mg or 12mg with the option of 50% PG / 50% VG or 30% PG / 70% VG.
Where can I find the full list of available flavours?
To find our full range of flavours for our freebase and Nic salts, you can simply head to 10ml E-Liquid | Zeus Juice UK or 10ml Nicotine Salts | Zeus Juice UK to scroll through all of our products with further detail about flavour combinations and prices. Alternatively, please see below for our full list of 25 flavours.
Can I set up a monthly subscription for the new 10ml flavours?
Of course. Head to E-Liquid Subscriptions | Zeus Juice UK where you will find FAQs regarding our subscriptions and a guide on how to set one up. Alternatively, simply find your product, click 'subscribe and save', choose your frequency – weekly / fortnightly / monthly – and checkout as normal.