Following a staggeringly successful launch in May
during which they sold out in less than a week...
Zeus Juice disposable vapes are back and better than ever!
Pre-filled with six of Zeus' best-selling flavours, Zeus Juice disposables are discreet and easy to use; an ideal option for anyone on the move.  Perfect for new vapers as well as loyal Zeus fans, disposables are an effortless alternative to classic mods whether pocketed for a night out, thrown in a suitcase ready for holiday or simply to sample new flavours before committing to e-liquids.
Retailing at an accessible £5.99 or two for £10, the new disposable choice is available in Zeus' signature juices including the nation's favourite, Black Reloaded – a bold move away from the generic 'Unicorn Shake' or 'Banana Ice' flavours often seen on the market. Not only does Zeus introduce a fresh direction for the disposable offer, it also allows both customers and stockists to move from disposables to pod systems with ease, knowing that their flavour choice is available in all possible variations.  With no compromise on taste or experience, as well as Zeus' guarantee that all liquids are mixed, tested and approved in the UK, the new disposable pod will carry users from A-Z of their vaping journey knowing that the premium flavour will not fade, fault or fail on the road to being smoke free.
"We are on a mission to help people stop smoking for good by presenting alternative healthier options as a 'swap to stop' tool," says Tim Allinson, MD of Zeus Juice. "The response to our disposable launch was astounding, and as always we have listened to our fans and reintroduced them to our offer. Adding disposables to our armoury is another positive step in their journey."
Furthermore, addressing consumer concerns regarding the sustainability of disposables, Zeus Juice has revised the original packaging and has notably reduced its plastic content meaning that disposables are now kinder to the planet as well as your health.
NOW MANUFACTURED
WITH 50% LESS PLASTIC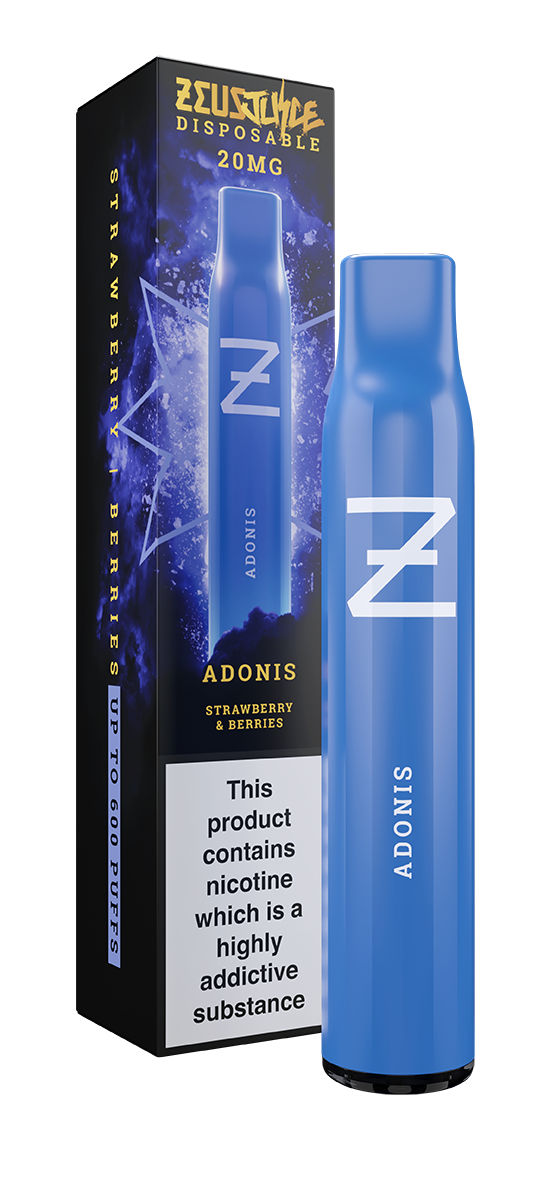 Freshly picked, juicy raspberries united with ripe strawberries create a captivating blend, a heavenly taste of summer.
berries
blackcurant
menthol
We took the original 'The Black', enhanced with more menthol & aniseed; creating a new deity that even Zeus is in awe of.
blood orange
&
mixed fruits
Guarding the gates, Cerberus is a trio of ferociously tasty fruits: blood orange, peach and cranberries, with a final bite of menthol.
The lifeblood of the gods, the colour of the divine. A sublime union of cherry and menthol, 'Reloaded' with red berries.
berries
eucalyptus
menthol
The first famous blue e-liquid, eternally popular since 2014. She is complex mix of berries, menthol and eucalyptus, with a blast of ice.
berries
blackcurant
menthol
The original… The most famous of its kind… A delicious blend of dark berries and blackcurrant with a blast of ice cold menthol.