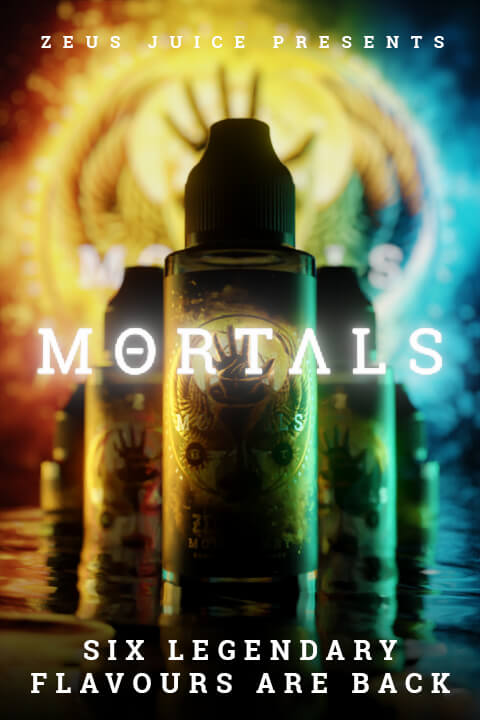 The Resurrection of Eight Legendary Flavours
This month Zeus Juice are excited to welcome the return of eight former flavours as part of our new Mortals range. Retailing at £15.99 for 100ml, the resurrection includes the highly requested Tooth Fairy and Monkberry, as well as the more divisive flavours such as Hades and Keewibera.
The range is designed specifically for Zeus superfans that are looking for:
An old favourite

A premium, all day vape

British manufactured e-liquid

Intricate and innovative flavour choices
Why are they called the Mortals?
Mortals, by definition, are subject to death as opposed to being divine. Iconic flavours in our premium Zeus range such as Black Reloaded, Dimpleberry or Vermilion embrace immortality, but the flavours identified in our Mortals range are at risk of being taken out.
Who is the range designed for?
If you are hunting for an old favourite and want a premium, all-day vape proudly manufactured in the UK, Mortals is the range for you.
Why were the flavours cut in the first place?
The Mortals flavours were not originally cut for any health or safety reasons; every one of our juices use the very best ingredients and follow the same rigorous testing and quality control. The original flavours may have been killed off because they contained slightly rarer ingredients or because they just weren't quite as popular as our more iconic juices.
Why is the range only available in 100mls?
All six revivified flavours taste exactly the same as previously; no additions, secret twists or enhancements meaning we can confidently offer them as 100ml and not 50ml tasters as we know you will enjoy the same intricate and innovative flavours as before.
Will you bring back any other old flavours?
These are the only flavours we are resurrecting in 2021. But as we like to listen to you, our Zeus super fans, we will continue to look at resuscitating additional in-demand mortal flavours next year.
Is the range limited edition?
The eight new Mortals are not limited-edition, however some of the flavours will face eternal extinction should they fail to make a strong comeback.
Mortals are available for delivery now